Listen on Apple Podcasts | Download
Today we get to sit down with our show's host, Christopher McCluskey, PCC, for part two of his inspiring story. In the previous podcast, Christopher McCluskey talked about the challenges and obstacles he faced after shutting down his successful counseling practice to move his wife and children cross-country to the family farm and launch a private coaching practice.
Shortly after relocating, Chris was struck by a debilitating illness that took years to diagnose. He entered a "dark night of the soul" that took a toll on both he and his family. But instead of allowing difficult circumstances to harden their hearts, they served to strengthen their faith and resolve. During these difficult years, God inscribed valuable life lessons on Chris' heart, which he shares with us today.
Chris identifies five critical beliefs that shaped his life and decisions during these years:
Discern your life's call and listen to the song of your heart.
Count the cost and do your due diligence when launching your coaching business and in honoring your values.
Commit for the long haul. After putting your hand to the plow, resist the temptation to look back (Luke 9:62).
Persevere through the dark times and allow nothing to deter you from God's plan and purpose for you, both personally and professionally.
Work creatively and collaboratively. Say, "Lord, show me something fresh here." Ask, "Collaboratively, who else can help me?"
How might these key takeaways mold your life and coaching practice?
If after listening to today's broadcast, you're asking yourself, "So, what's next?" or "How can I do a similar examination of my life and priorities?" download the "Align Your Life Inventory" for free. Signing up for this free resource will also add you to our mailing list and keep you up-to-date on new topics and podcasts.
Until next time, keep Raising the Standard and Changing the World!
About Chris McCluskey, PCC
Often cited as 'The Father of Christian Coaching', Chris is a visionary thought leader who pioneered this field in the late 1990's through journal articles, conferences, keynotes, and as a founding board member of both the Christian Coaches Network and Christian Coaching Magazine.
He served as a primary consultant and contributor to Dr. Gary Collins in his ground-breaking text, "Christian Coaching: Helping Others Turn Potential Into Reality" (2001, NavPress).
In 1998, Chris transitioned entirely out of his ownership of the largest Christian psychotherapy practice in Tampa Bay (Christian Care Counseling Centers, Inc.) into full time coaching as a solo practitioner in his new business, Coaching for Christian Living, Inc.
In the year 2000, he established a Christian track at the Institute for Life Coach Training which grew over that decade into the Professional Christian Coaching Program (precursor to PCCI).
He has presented at more than 50 national & international conferences including the Christian Management Association (CMA), the American Association of Christian Counselors (AACC), the Christian Association for Psychological Studies (CAPS), the Association for Marriage & Family Ministries (AMFM) and the Christian Coaches Network (CCN).
A prolific writer, he and his wife, Rachel are best-selling authors of the highly-acclaimed marriage book, When Two Become One (Revell, 2004, 2006), and have co-authored chapters in several popular Christian books. Their articles appear in numerous international magazines and on websites including ChristianityToday.com, FamilyLife.com, and Focus on the Family's PluggedIn.com. They are frequent guests on popular Christian radio and television shows.
Chris and Rachel operate Professional Christian Coaching Institute and Coaching for Christian Living from their ranch in the foothills of the Ozark Mountains in south-central Missouri where they homeschool their seven children. Chris' passions include music, the performing arts, and nature, but most of all his family.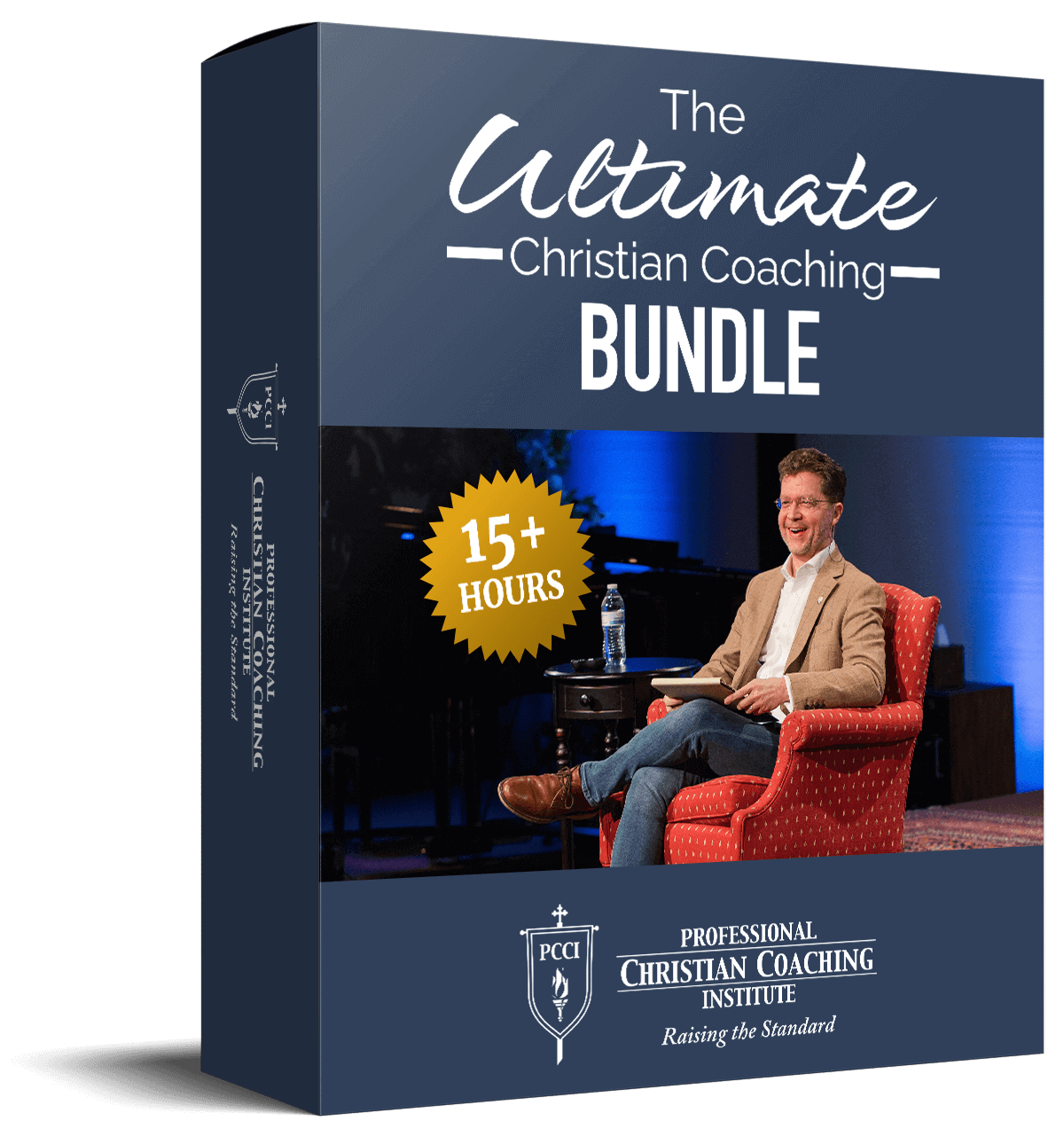 Learn from the BEST Christian Coaches!
Whether you're exploring Christian coaching, a brand-new or seasoned coach, this powerful resource will deepen your learning, skill, and effectiveness.