Are you a professional Christian coach? Do you sometimes struggle to find the right words to answer potential clients' questions? What is coaching? What makes it professional-grade coaching? What is distinctly Christian coaching?
Let's parse out all three parts of that phrase—Professional Christian Coaching—and examine each of them.
What is Coaching?
The "ICF (International Coach Federation) defines coaching as partnering with clients in a thought-provoking and creative process that inspires them to maximize their personal and professional potential, which is particularly important in today's uncertain and complex environment.
Coaches honor the client as the expert in his or her life and work and believe every client is creative, resourceful and whole. Standing on this foundation, the coach's responsibility is to:
Discover, clarify, and align with what the client wants to achieve
Encourage client self-discovery
Elicit client-generated solutions and strategies
Hold the client responsible and accountable
This process helps clients dramatically improve their outlook on work and life, while improving their leadership skills and unlocking their potential."
The coach uses such tools as powerful questions, direct communication, and reframing, drawing out God's purposes from within the client (Proverbs 20:5).
Christopher McCluskey, PCC explains, "The coach shows up to facilitate a monologue. What that means is it's the client talking to themselves, listening to themselves, and having a discussion or dialogue with the Lord through the Holy Spirit."
Two powerful tools coaches use to facilitate this monologue are active listening and powerful questions.
Active listening is a skill that coaches develop through professional coach training and experience. Kim Avery, PCC, explains: "We want to listen 80 percent of the time because we're not just listening to what the client is saying. We're listening to what they are not saying. We're listening to the hesitations, to their mindset."
But coaches wouldn't know what to be listening for unless they ask powerful questions. Powerful questions are open-ended questions that create clarity, evoke discovery, elicit insight, or invite new learning. A coach's powerful question helps the client see his or her blind spots.
But it takes a great deal of training and skill to learn to ask the right questions, which brings us to our next question.
What is Professional Coaching?
The reality is coaching is an unregulated term, which means anyone can call themselves a coach, but instead of coaching, they are advising, mentoring, or discipling. Although these helping professions have their place, they are not coaching. Practically speaking, that means there are coaches out there who call themselves coaches yet lack the skills and training they need to help their clients get to where they want to go.
Because of the lack of regulation in the coaching industry, the International Coach Federation (ICF) sets professional standards that are backed by extensive research. Coaches certified through the ICF undergo rigorous testing in addition to meeting the professional standards. This informs individuals, churches, and businesses as to what professional-grade coaching is and provides a measure of reassurance when hiring a coach affiliated with the ICF or an ICF-approved training program.
But for the Christian, it's equally important that their coach has a biblical worldview.
What is Professional Christian Coaching?
Distinctly Christian coaches are those who have experienced "new life" in Christ. Chris explains:
They
[Christians] become Christ's hands, His feet, His mouthpiece, His tool in this physical world. They become the means by which Christ continues His work of redemption in this fallen world. "
A transformational faith extends beyond a set of rules and do's and don'ts. It's now about knowing the right thing to do; it's about being made new in Christ. As Christians, we seek to live in sync, in tandem, with this new self.
Professional Christian Coaching is a tool whose time has come. It is a desperately needed tool for the church as they continue God's redemptive work in the world.
For more on this discussion and related coaching topics, visit ProfessionalChristianCoachingToday.com.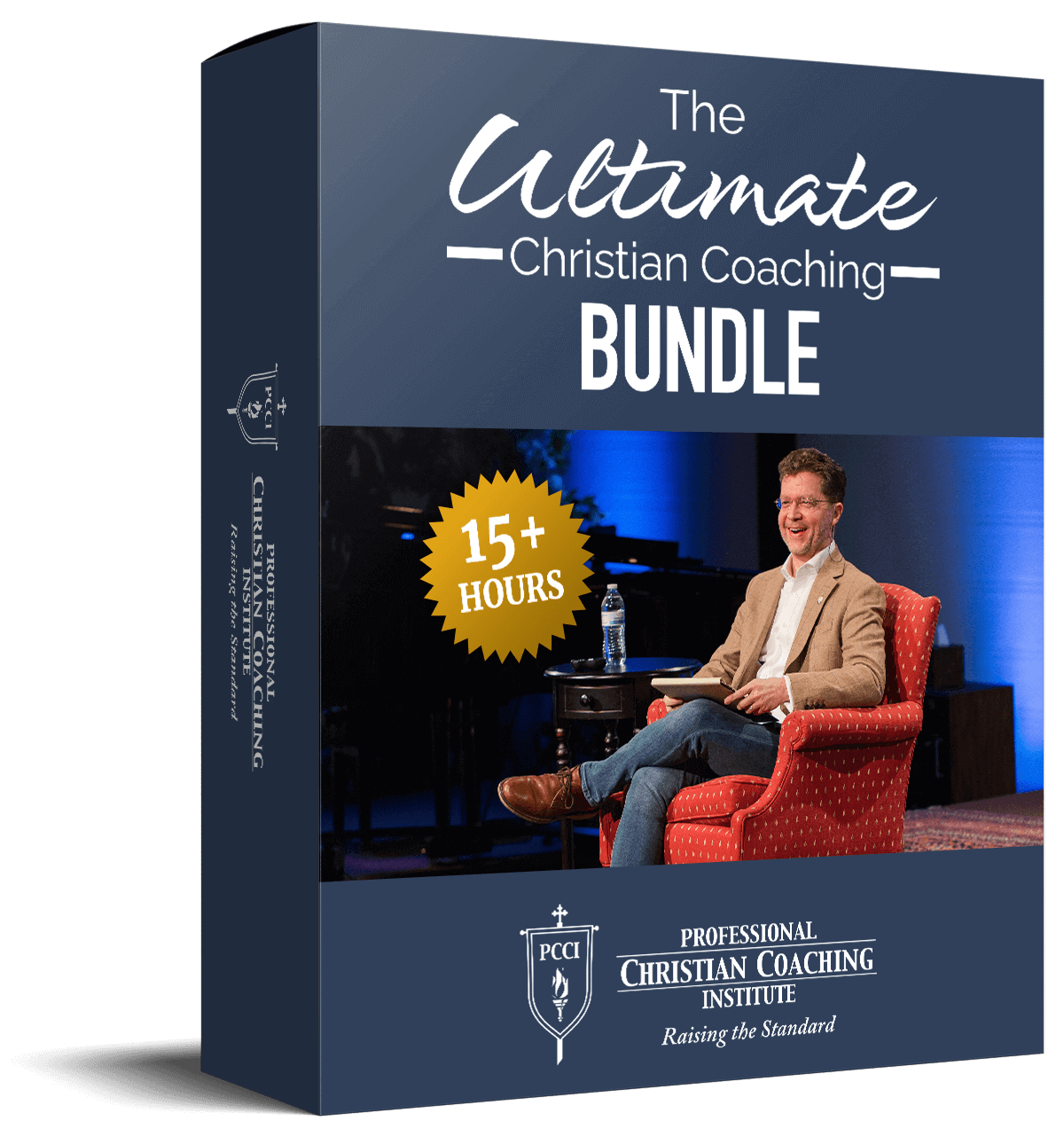 Learn from the BEST Christian Coaches!
Whether you're exploring Christian coaching, a brand-new or seasoned coach, this powerful resource will deepen your learning, skill, and effectiveness.