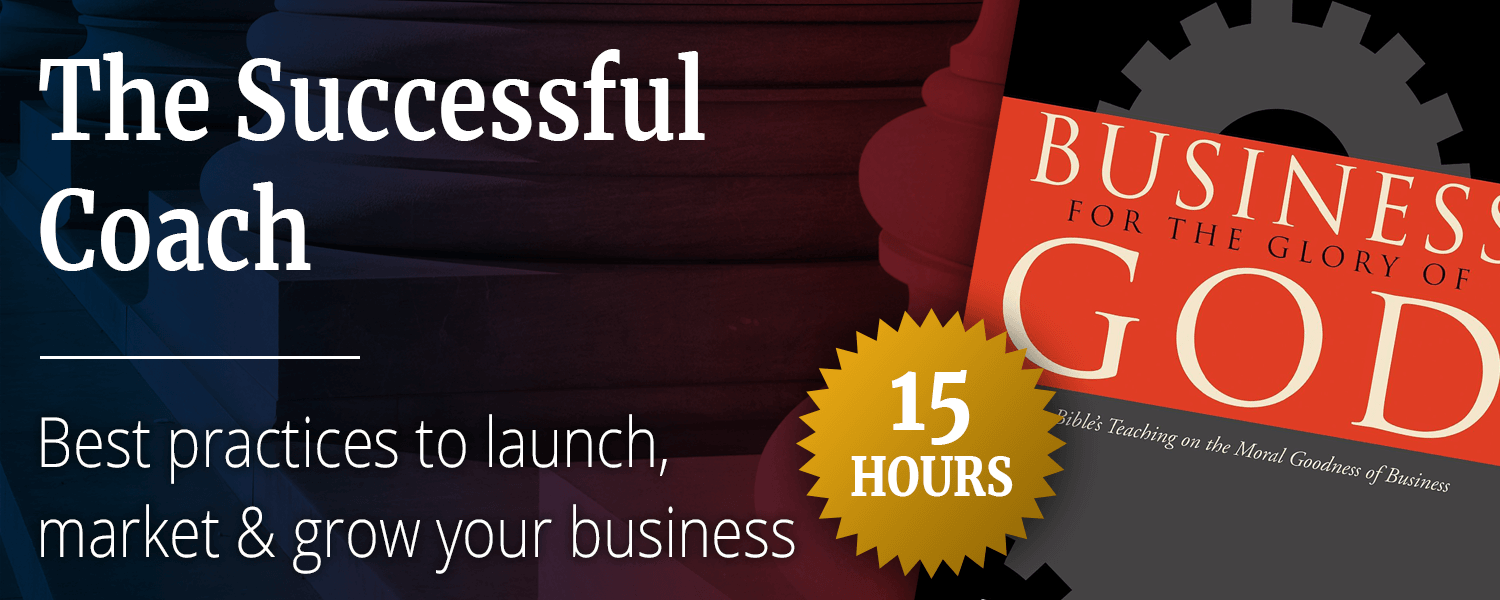 The Successful Coach is for every Christian coach
intent on successfully launching, marketing and growing a thriving practice.
To put it simply, many of us are 'people people', not 'business people'. By the time you complete this course, you will know in your heart that you have become a 'business person' — a true entrepreneur.
The Successful Coach is structured as an extremely practical laboratory in which your lab project is the launch of your business. Utilizing 4 excellent texts on business development and marketing, the class serves as an actual lab, walking you step-by-step through the launch of your business. You will:
Foster & develop an Entrepreneurial mindset

Establish Biblical business practices

Incorporate in your state & secure your Federal Tax I.D. number

Contract for credit card processing & open your bank account

Establish your physical office, record-keeping & client forms

Identify your niches & develop your promo materials

Purchase the right office equipment

Plan a specific, realistic work schedule

Market initial clients quickly

Hear role modeling of effective marketing & inquiry calls

Learn the secrets of securing & retaining clients

Avoid critical & costly mistakes, and

Systematize every aspect of your practice (so you can just enjoy coaching!)
The Successful Coach is one of the many things that sets us apart from other coach training schools because it focuses entirely on the successful launch of your coaching practice.
PCCI President, Christopher McCluskey, transparently shares the principles he's used over 27 years in 4 highly successful businesses and 2 non-profit (501c3) ministries.
May 2022 Class Instructor
PCCI CEO and Founder and creator of the REALIFE Process®, Teresa McCloy shares the insights she has gained from over 20 years in multiple entrepreneurial businesses and the growth of her own successful coaching practice as well as over 15 years leading teams both in business and ministry.
Even a few of the benefits of this course can save you thousands of dollars, not to mention countless hours of frustration and, quite possibly, the loss of your dream.
Securing one or two clients will more than pay for this one-of-a-kind course, and it will dramatically impact your entry into this field.
NOTE: All payment plans include a $10 monthly service charge.
DAY: Wednesdays
TIME: 12:00 – 1:00 PM Eastern
DATES: August 23 – December 6, 2023 (NOTE: Class will NOT meet on 11/22)
INSTRUCTOR: Christopher McCluskey, PCC
Got Questions About Christian Coaching?
Connect with an Academic Advisor to answer any questions you may have and discover the best path for you!
CONNECT WITH AN ACADEMIC ADVISOR
Other Courses You May Be Interested In