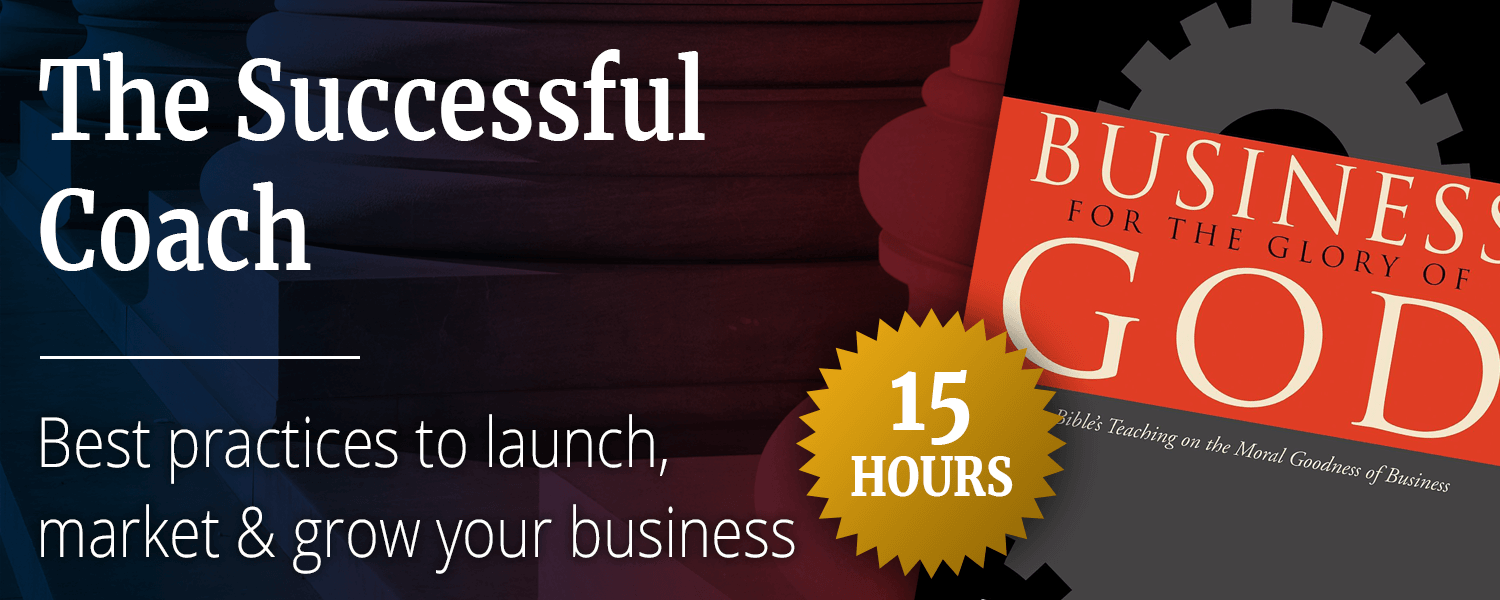 The Successful Coach is for every Christian coach intent on successfully launching, marketing and growing a thriving practice.
To put it simply, many of us are 'people people', not 'business people'. By the time you complete this course, you will know in your heart that you have become a 'business person' — a true entrepreneur.
The Successful Coach is structured as an extremely practical laboratory in which your lab project is the launch of your business. Utilizing 4 excellent texts on business development and marketing, the class serves as an actual lab, walking you step-by-step through the launch of your business. You will:
Foster & develop an Entrepreneurial mindset

Establish Biblical business practices

Incorporate in your state & secure your Federal Tax I.D. number

Contract for credit card processing & open your bank account

Establish your physical office, record-keeping & client forms

Identify your niches & develop your promo materials
Purchase the right office equipment

Plan a specific, realistic work schedule

Market initial clients quickly

Hear role modeling of effective marketing & inquiry calls

Learn the secrets of securing & retaining clients

Avoid critical & costly mistakes, and

Systematize every aspect of your practice (so you can just enjoy coaching!)
The Successful Coach is one of the many things that sets us apart from other coach training schools because it focuses entirely on the successful launch of your coaching practice.
Even a few of the benefits of this course can save you thousands of dollars, not to mention countless hours of frustration and, quite possibly, the loss of your dream.
Securing one or two clients will more than pay for this one-of-a-kind course, and it will dramatically impact your entry into this field.
Required Texts:
"Actually I just got 3 inquiry calls coming up tomorrow! 😊 This class prepared me with what it takes to grow a coaching practice from scratch to finish!"
"This course was an AMAZING INVESTMENT! The step-by-step business plan equipped me to start a thriving Kingdom-focused Christian Coaching practice."
Indicate your desired course date during registration and checkout.
DAY: Tuesdays
TIME: 6:00 – 7:00 PM Eastern
DATES: February 13 – May 21, 2024
INSTRUCTORS: Teresa McCloy, ACC
DAY: Wednesdays
TIME: 12:00 – 1:00 PM Eastern
DATES: April 24 – July 31, 2024
INSTRUCTORS: Chris McCluskey, PCC
DAY: Thursdays
TIME: 3:00 – 4:00 PM Eastern
DATES: August 8 – November 21, 2024
INSTRUCTORS: Kris Kelso, PCC
All payment plans include a $15 monthly service charge.
"Taking the Essentials of Life Coaching in conjunction with The Successful Coach was the BEST start-up business decision I made. My coaching business grew faster and clients experienced greater success than anticipated thanks to the Christ-centered professional skills and practical, solid business strategies I obtained through PCCI."
"The Successful Coach has saved me thousands of dollars! The course gave me the knowledge and tips that only successful and experienced coaches would know! How could you afford NOT to take this course?"
"I cannot express enough the enormity to which this course has influenced my coaching business. It not only equipped me with the means to become successful but also radiated the Biblical standard to achieve our higher calling."