Susan Whitcomb, PCC, is a prominent figure in the world of career coaching and a faculty member with the Professional Christian Coaching Institute. A regular guest expert on career coaching for Crown Financial Ministries' MoneyLife™ broadcast, Susan's career wisdom has also been heard on hundreds of radio stations nationwide, as well as several NPR affiliates.

This interview is part of a continuing series, introducing faculty and staff from the Professional Christian Coaching Institute and Community to the larger coaching community.
CLC:  Please introduce yourself to our readers.
Susan: I'm a career coach whose early work history was the epitome of poor career planning! Like a pinball, I bounced from music therapist to legal secretary to solopreneur of a word processing and resume writing service to resume writer. Then I discovered coaching. I applied it to my niche of careers/job search and felt, "This is what I was put on this planet to do!"
Looking back, I can now see the Lord was orchestrating it all, redeeming it all, planning it all … as He is doing with each one of our lives
Back in 2001 when I was looking for coach training, there were few Christian options available. I found Chris McCluskey and Judy Santos' Christian track for life coach training and promptly enrolled.
Just six weeks into the program, I launched Career Coach Academy (the beginning of The Academies, Inc.), much to the surprise of my mentor coach, Judy. With her encouragement and expertise, I assembled my first group of career coaching students, took a deep breath, jumped in and taught ICF core competencies applied to career topics, and haven't looked back.
Thirteen-plus years later, coach training, authoring books, presenting, and speaking are still "my heart's desire." To make a living doing what I love is a blessing. I want the same for you and others around the world!
CLC:  You have spent more than 20 years supporting people transforming their jobs into "journeys of becoming." How can we transform our journey as Christian coaches into a journey of becoming?
Susan: Be consumed with God. Know Him, seek Him, study Him, talk to Him, love Him, serve Him, praise Him, and share Him. As we spend time with Him, we become like Him. As He reveals His wisdom and mind to us, we know where to step next, what to say "yes" to, how to prepare ourselves, and how to walk in the good works He has prepared in advance for us to do.
CLC: What advice would you give coaches considering career coaching as a niche?
Susan:  Immerse yourself in the area of career coaching that interests you most.
"Career explorers" assess their strengths, skills, values, and gifting, and then, taking the highlights, they research and investigate the marketplace ultimately deciding what they would like to do next.
"Career hunters" actively job search, involving themselves in informational interviews, job search strategy, social media search strategies, resume development, interview preparation, salary negotiation coaching, and more.
"Career conquerors" enhance their current position with increasingly interesting promotions, projects, people, and paychecks.
CLC: How does career coaching differ from other coaching niches? What makes career coaching unique?
Susan: Career coaches must be aware of client job context, which means understanding how employers think, how the recruiting process works, what goes on inside the client's existing or target organizations from an operational or cultural standpoint, and so on. We do not need to be omniscient, by any means, but we should be aware of these important issues so we can ask our clients good questions.
If you haven't had a corporate or recruiting background, shore up any gaps through extensive reading, involvement in professional associations, and networking with individuals who have the knowledge that you need. Or, like me, write a book on the subject. That will force you to become an expert quickly!
CLC: Today's job market presents more challenges for job seekers than in years past. How can career coaches help job seekers succeed in today's market?
Susan:  A good career coach can be of tremendous value to clients with these three concepts:
First, provide value. Employers are clamoring for employees who think entrepreneurially and work hard to deliver a return-on-investment (ROI) to the employer. To help prepare your clients, ask them ROI questions:
How have you helped make your past employers profitable?

How might you do the same for the target company you're interested in?

What areas in your company do they need the most help now?

How might your skills and interests be applied to bring the most value?"
Second, consider themes and flexibility. So many clients look for a title, e.g., I want to be a Director of Operations, or I want to be a pharmaceutical sales rep, or I want to be a teacher. These goals are fine, but in a tight marketplace, positions like these may be hard to find.
Instead, uncover the themes beneath the titles. For example, a teacher's theme may be helping people learn or simplifying complex information. They can apply those themes in the classroom, in hospitals through patient education programs, or in training and development units to educate employees.
Third, address mindset. As Christians, we have a "secret weapon," the mind of Christ. Help clients cultivate a mindset that sees the challenges that organizations, employers, and managers face through the eyes of heaven, a mindset that blesses and doesn't gossip or grumble, a mindset that looks for the good news when faced with bad news.
Draw these things out of your client, and they will be gold to their employers.
CLC: You have expanded your platform to include writing and speaking on career-related topics. How did you make the leap?
Susan: Do not despise small beginnings! I started my writing career by responding to requests from an editor who was assembling resume "gallery" books. As the editor came to know me, he invited me to submit a proposal for a resume book. That led to six other careers books over the years, each on a topic that was a stretch for me.
Speaking was a natural outgrowth of being a thought leader. The opportunities were there, and I stepped up to the plate, even when I didn't feel equipped or qualified.
CLC: What advice do you have for coaches seeking to expand their influence through speaking and writing?
Susan: Find an audience, learn and address their needs, and deliver services and products in an authentic, on-brand, vulnerable-yet-confident manner. And get good at it —do everything as unto the Lord!
Study others who are succeeding in your area. Find mentors who have had success. Practice. Embrace the setbacks. Enjoy the progress. Ask the Lord to show you how to expand your reach. Do what he puts in front of you. Ask again. Obey again. Eventually you'll look back and be amazed at where He's taken you.
CLC: What else would you like to share with our reader?
Susan: Surveys indicate up to 80 percent of the workforce is unhappy with their jobs. That's a huge number of painfully employed people — people who are sick to their stomachs on Sunday nights, people who are in wrong position, people who are under-employed, and more.
And that pain not only creates unhealthy, unproductive workplaces, it also affects an individual's well-being and pocketbook, straining relationships with family and friends.
As a career coach, you can change those scenarios for good, by supporting clients as they move toward paths that will allow them to thrive, contribute, grow and bless, and to one day hear from heaven, "Well done, good and faithful servant."
Now that is a job worth having!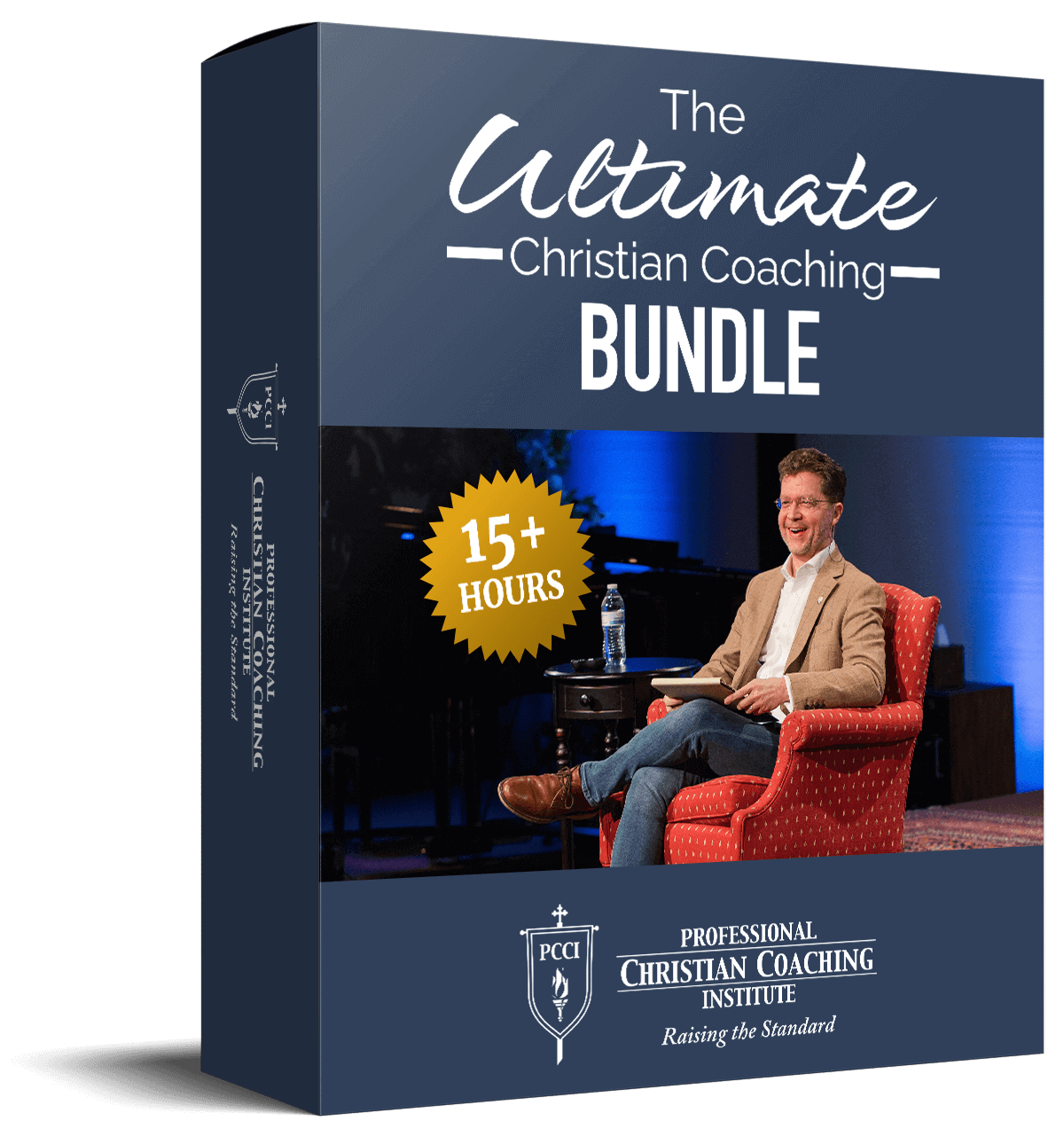 Learn from the BEST Christian Coaches!
Whether you're exploring Christian coaching, a brand-new or seasoned coach, this powerful resource will deepen your learning, skill, and effectiveness.