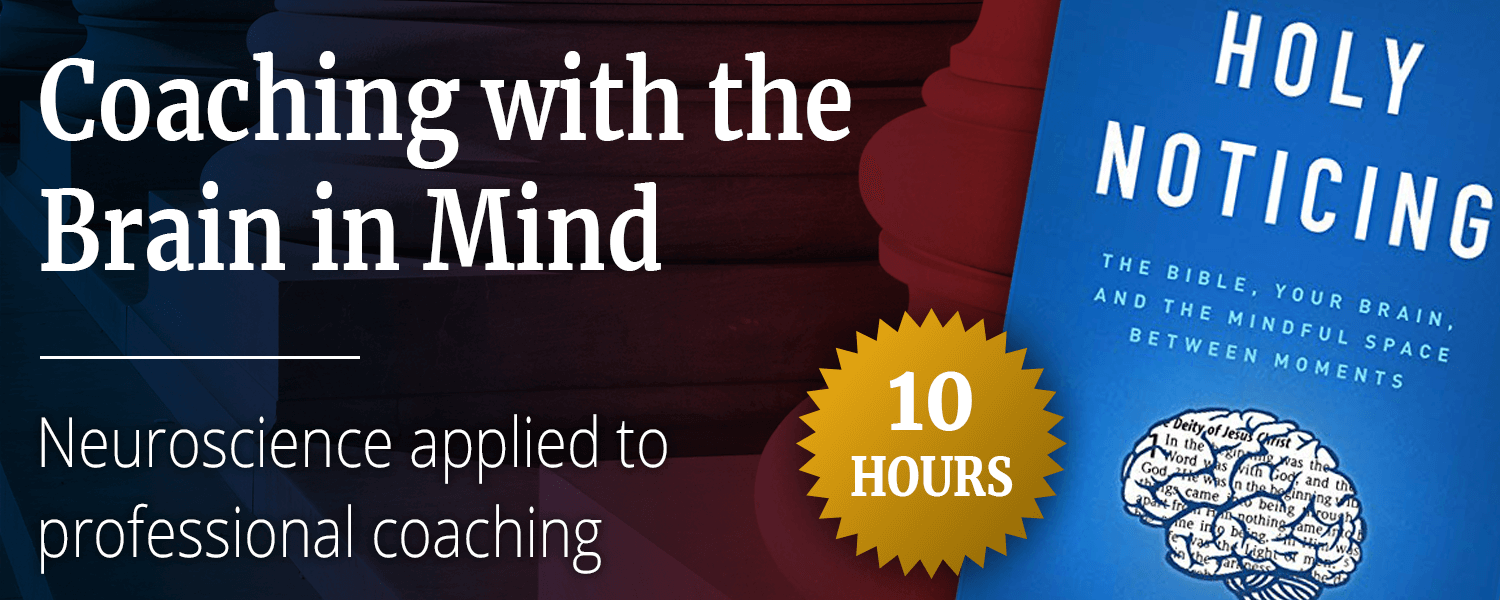 Every single day, researchers are expanding our understanding of how God designed our brains – how they work, how to enhance their functioning, what happens when they don't work, and how to apply this knowledge to every field of human endeavor, including coaching.
In this course, popular neuroscience expert Dr. Charles Stone introduces some of the basics of how our brains are organized, how they work, and why this matters to coaches.
Author of several books including the foundational texts for this course, Brain-Savvy Leaders and Holy Noticing, Dr. Stone combines decades of ministry as a senior pastor and his work as an ICF-certified coach with extensive research and an advanced degree in neuroscience to provide a one-of-a-kind learning experience for Christian coaches.
In this course you will learn:
The basics of how the brain is organized and how it functions;
How this knowledge can dramatically impact your self-awareness as a coach, your attunement to the Holy Spirit, and ways in which you can help your clients gain insight and growth;
Neuroscience-based choices you and your clients can make to manage stress, regulate emotions, nourish your brain, practice mindfulness, and form lasting habits; and
Familiarity with a brain-targeted instructional approach developed at Johns Hopkins University.
Readings from both required texts are supplemented with supporting articles, video and other resources.
Charles Stone, MDiv, DMin, ACC, serves as senior pastor of West Park Church in London, Ontario, Canada, a multicultural congregation with over 1,000 attendees. He founded StoneWell Ministries to serve pastors and churches through coaching and consulting. He recently completed an Executive Masters in the NeuroScience of Leadership, and many of his articles have been featured in magazines such as Outreach, Leadership Journal, REV, New Man, and In Touch. His blog posts appear on numerous sites including Pastors.com, SermonCentral.com, ChurchCentral.com, and ChurchLeaders.com, and he is a popular guest on such shows as Moody Radio, KLove, Faith Radio, and Family Talk with Dr. James Dobson.
NOTE: All payment plans include a $10 monthly service charge.
DAY: Tuesdays
TIME: 6:00 – 7:00 PM Eastern
DATES: September 19 – November 21, 2023
INSTRUCTOR: Dr. Charles Stone, ACC
Got Questions About Christian Coaching?
Connect with an Academic Advisor to answer any questions you may have and discover the best path for you!
CONNECT WITH AN ACADEMIC ADVISOR
Other Courses You May Be Interested In