Michael Pfau, MEd, PCC, CPCC is the founder and President of Crossways Life Coaching. Michael launched his international coaching business in 2002 after serving 16 years as an assistant pastor of a church he co-founded in Philadelphia. He specializes in retirement coaching, career coaching, and life coaching.

This interview is part of a continuing series, introducing faculty and staff from the Professional Christian Coaching Institute and Community to the larger coaching community.
CLC: Welcome. Would you share a little about yourself with our readers?

Michael: I currently coach full time, teach on the faculty of the Professional Christian Coaching Institute, and assist two different organizations, Strategic Renewal International and Pastors in Residence, with integrating coaching into their 2014 programs.
God first drew me to coaching through Gary Collins' book, Christian Coaching, in 2002. After completing my training and attaining my certification, I worked and presented alongside best-selling author Bruce Wilkinson as part of his Dream Giver Coach Network from 2003 to 2005, helping individuals discover and live their dreams.
My passion is equipping and empowering others to fulfill God's call on their lives through distinctly Christian coaching.
I have been married to Deanna for 29 years, and together we have two daughters and a Shetland sheep dog.
CLC: As a retirement coach, what do you see as the greatest challenges and opportunities facing men and women nearing retirement? How can coaching help?
Michael: The biggest challenge is change. Change in identity, routine, relationships, purpose, to name a few. Coaching comes alongside and helps the pre-retiree to get clear about who they are, what they value and desire, and how to plan for retirement.
Through coaching, I offer the support and resources others need during this major life transition.
CLC: You're also a career coach. What can career coaching offer clients that they cannot get anywhere else?
Michael:  When coaching clients around career, my goal is to help them connect with themselves. The focus is to help them get clear about their personality, skills, talents, abilities, interests, values, ideal working environment, and other factors that contribute to their success. We also explore the motivations behind their actions and work to raise their emotional intelligence.
Ultimately, this helps to clarify what they do best, while addressing stress and feelings of being overwhelmed.
Clients walk away from our time together with a mission statement that gives them confidence and direction for career development and choices.
CLC: What benefits have the entrepreneurial lifestyle afforded you and your family?
Michael: Full-time coaching frees me to control my schedule instead of my schedule controlling me. It isn't always easy, and sometimes we have to adjust, but we are able to have more family interactions and connections than we do with a full time job.
CLC: What advice would you give a new coach just starting out?
Michael: Get a good support system and stay connected. Isolation leads to discouragement and a loss of perspective. It is easy to feel overwhelmed and stressed when you are just starting out because there are so many decisions to make and things to do. By connecting with others, especially those in the coaching community, you can ask questions and receive input that helps you stay clear and focused.
CLC:  What else would you like to share with our readers?
Michael: I would encourage them to forge three types of connections.
First, connect with GOD. Create a personal theology statement that reflects who God is and how that makes a difference in the everyday details of your life.
Second, connect with yourself. Get clear answers to the two big questions: Who am I, and what am I here for? Start with assessments: personality, skills/talents/abilities, interests, values, ideal working environment, etc. Move to motivations and emotional intelligence. Be clear about your mission and vision, and address career development and direction at the outset.
Finally, connect with others. Learn how to relate well with others. Learn what makes for healthy relationships and grow your own emotional intelligence.
Make these three connections, and be intentional about practically applying them to your life. Order your calendar to reflect your priorities and shape your decisions around these key connections.
Doing so will make life much more full and abundant.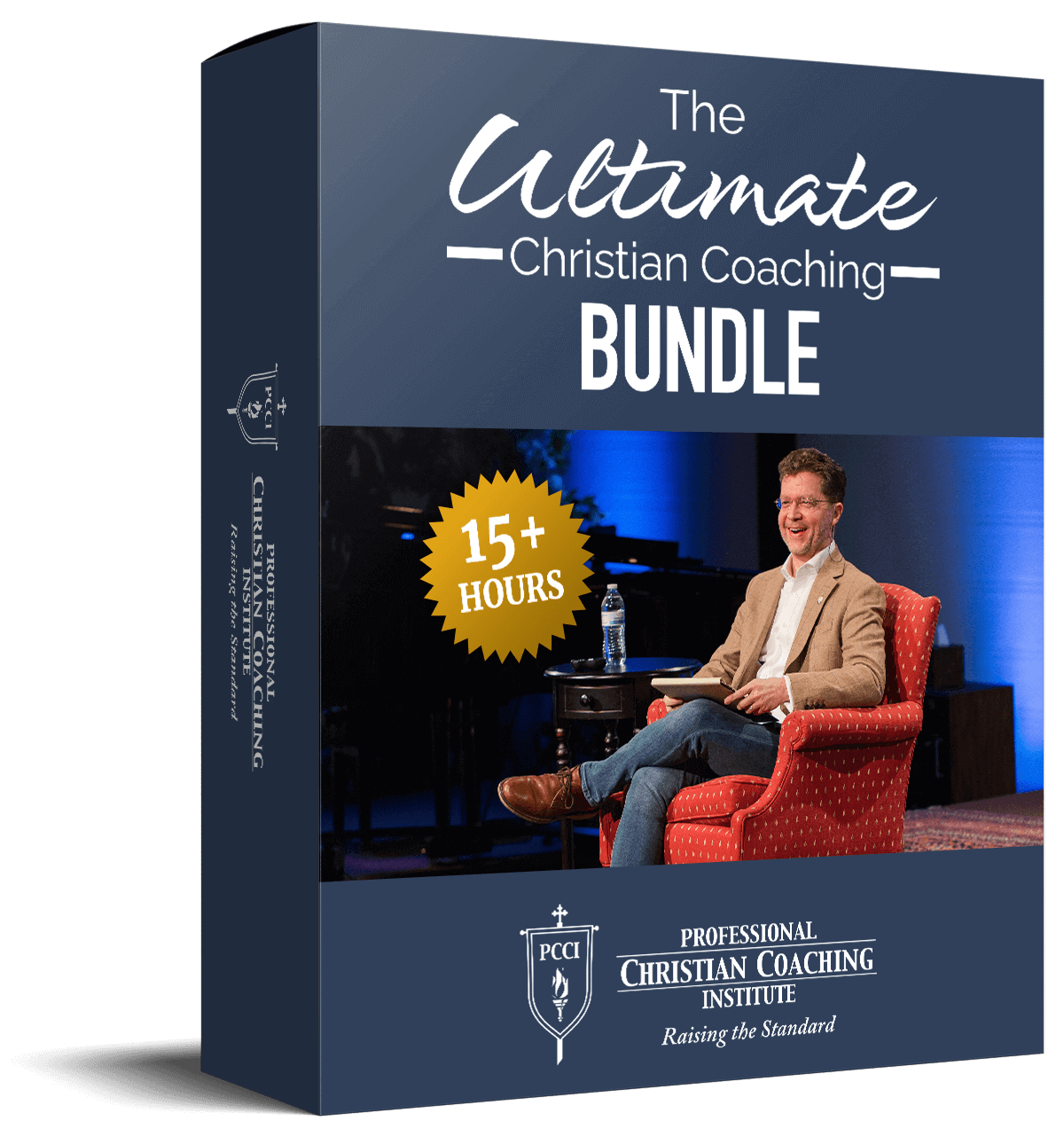 Learn from the BEST Christian Coaches!
Whether you're exploring Christian coaching, a brand-new or seasoned coach, this powerful resource will deepen your learning, skill, and effectiveness.