The International Coach Federation (ICF) is a non-profit professional association and the largest organization of coaches in the world. They are the primary interface for professional-grade coaching with the media and with private & public corporations throughout the world, and they serve advocatory as well as regulatory functions to benefit both coaches and consumers.
Since the mid-1990's, the ICF has established and modified a set of professional practice standards (the 11 Core Competencies) and a professional Code of Ethics. At PCCI, we ascribe to these standards and ethics and have developed all of our courses in alignment with them.
All of our instructors are ICF-certified, and all of our courses are approved by the ICF as ASCTH (Approved Coach Specific Training Hours).
Because of this, the road to ICF certification at the ACC level (Associate Certified Coach) through our school takes less than a year, and even the PCC (Professional Certified Coach) designation can be secured within 2 to 3 years depending on the growth of your client caseload.
All that is required for the ACC designation in terms of training is completion of the first two of our Core Courses (The Essentials of Coaching and Coaching Skills Development).
Additionally, the ICF requires that you provide proof of having done 100 or more hours of private coaching with clientele (20% of which can be pro bono service), that you complete 10 or more hours of mentor coaching with an ICF-certified coach, and submit an audio recording and written transcript of a coaching session. (The focus of your mentor coaching is on supervision of your client caseload — tweaking your skills and strengthening your application of the Core Competencies.)
After meeting these criteria, you can apply directly to the ICF from their website using their online "ACSTH Path" application form. They require payment of an application fee along with a passing score on their written exam, the Coach Knowledge Assessment.
Advanced certifications through the ICF — PCC (Professional Certified Coach) and MCC (Master Certified Coach) — can also be secured using our courses.
These advanced certifications take a minimum of 2 – 3 years and often more due to the number of additional required hours of coach training and of professional coaching services rendered, and they serve as a true measure of skill and professionalism in coaching. Full details of ICF certification can be found on their website,
Note: Professional Christian Coaching Institute (PCCI) is a separate and distinct entity from the International Coach Federation (ICF) and, while we align our training with their standards and have been awarded ACSTH status and our entire core faculty is ICF-certified, we do not have any direct influence on the ICF and cannot speak for them. The most up-to-date and accurate information about their certification process should be obtained only through the ICF website.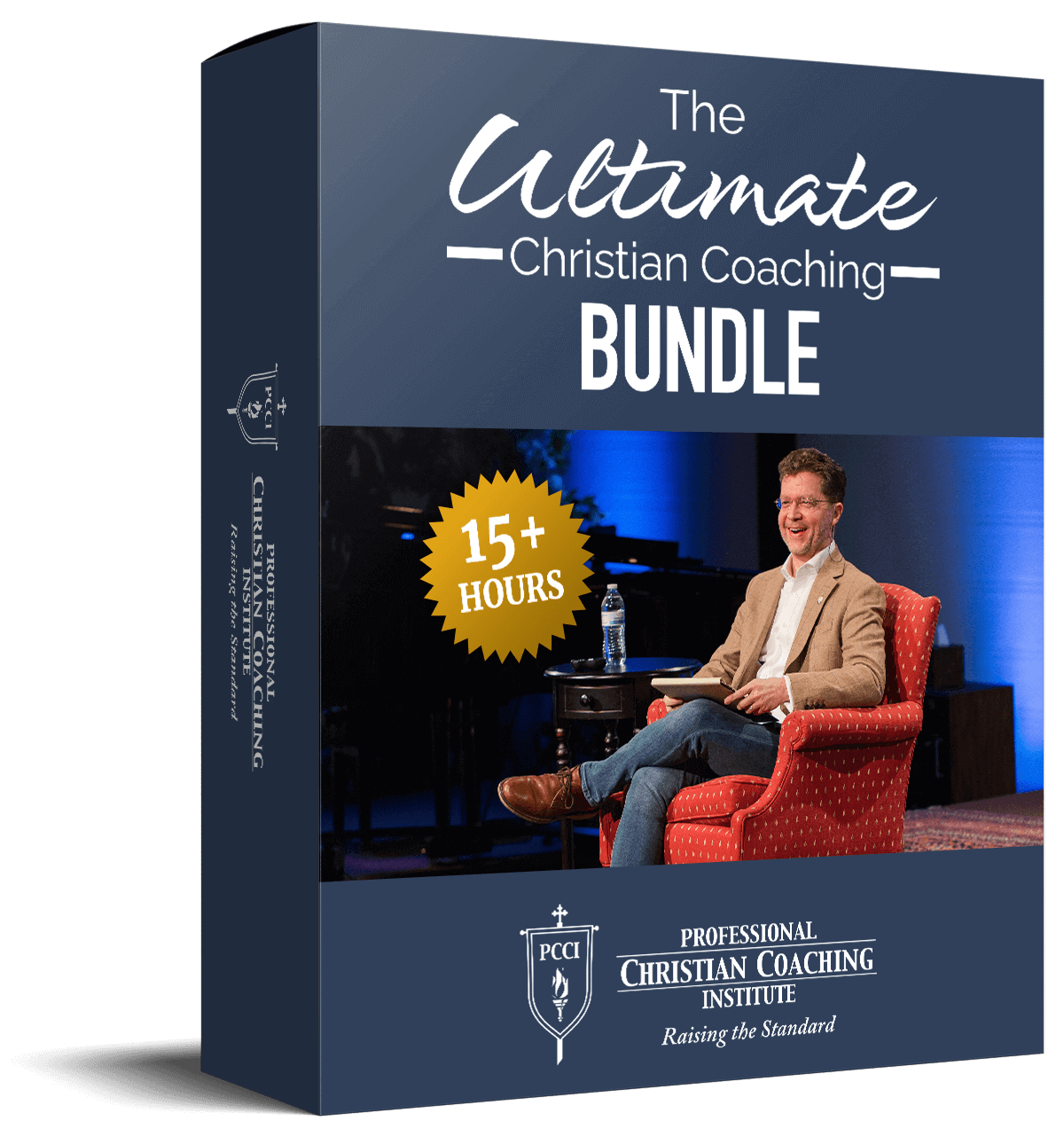 Learn from the BEST Christian Coaches!
Whether you're exploring Christian coaching, a brand-new or seasoned coach, this powerful resource will deepen your learning, skill, and effectiveness.